The Fairfield City Council will meet in regular session on Tuesday night. Items on the agenda include a resolution adopting the Wayne County Multi-Hazard Mitigation Plan. Another item on the agenda will be an ordinance regarding Risk Management Insurance. The Council will meet at 6 p.m. in the Council Chambers of City Hall.
The Salem Police Dispatch Center is still closed, following a lightning strike on Thursday, November 2nd that damaged the components of their computer control panel that was severely damaged beyond repair. Police Chief Sean Reynolds, stated that he hopes it will re-open on Monday, November 27th. The department has Internet and partial phone service that was also knocked out by the lightning strike.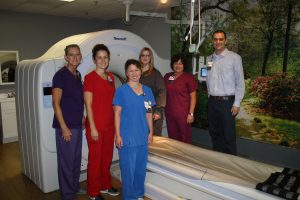 Fairfield Memorial Hospital is celebrating National Radiologic Technology Week. It is an annual event established by the American Society of Radiologic Technologists to celebrate the important role medical imaging and radiation therapy professionals play in patient care and health care safety. This week highlights the radiologic technology profession and raises public awareness about radiologic technologists. (Pictured are team members of the Diagnostic Imaging Department, Rhonda Grinols RT(R)(M)(CT), Melinda Bunting RT(R)(M), RMDS, RDCS; Courtney Powell RT(R)(CT); Robyn Adcock RT(R)(CT); Melanie Perkins RT(R)(M)(CT), RDMS; and Devin Deisher RT(R)(CT)(MR), Director of Diagnostic Imaging. Unavailable for the photo were Whitney French RT(R)(CT); Jessica Austin RT(R); Olivia Campbell RT(R); Erin Fields, Secretary; Dylan Mayes RT(R); Megan Slover RT(R); Whitney Leek RT(R); Courtney Cohoon RT(R); Elyssa Evans RT(R); and Garrett Rubsam RT(R).)
The Fairfield Community High School junior varsity Scholastic Team went 3 and 2 in a Southern Illinois Academic Conference meet on Thursday night in Herrin. FCHS claimed wins over Murphysboro, Marion and Salem but fell to Edwards County and Herrin. FCHS improves to 5-5 on the year. They will be in action again at another SIAC meet in Centralia on December 14.
Two juveniles face charges in connection with a May 25 fire that heavily damaged the old high school in Lawrenceville. The two face charges of arson and criminal damage to property over $100,000.
Fairfield physician Dr. Chris Ballard will be the featured speaker today at the annual Veterans Day service at Maple Hill Cemetery. The service will begin at 11 a.m.