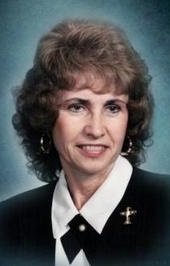 Linda Lou (Templeman) Coffelt, 76, formerly of Fairfield, passed away on Saturday, November 11, 2017 in Canton, Georgia.  She attended Boyleston Grade School, Fairfield Community High School, Class of 1958, and Lockyear Business School in Evansville, Indiana.  After attending Lockyear, she worked as a legal secretary in the Fairfield community.  She relocated to North Carolina, where she worked for the Dept. of Defense. While working for the government, she returned to school where she obtained a Bachelor's degree from Peace College in Mount Olive, NC. In 2001, she transferred to the VA Loan Office in Decatur, Georgia. She retired from the VA in 2008. She was a member of the Antioch Christian Church in Canton, Georgia.
Survivors include her daughters Lisa Baker Carter and Angela (Tim) Barden, six grandchildren Matthew and Jonathan Carter, Hayley, Jack, Isabella and Meredith Barden, one sister Kay (Bill) Day, two nieces and one nephew. She was preceded in death by her parents.
Funeral services for Linda Coffelt will be held at 11am on Thursday, November 16, 2017 at the Antioch Christian Church in Canton, Georgia.
Visitation will be from 10am until the time of service at the church. A local graveside service will be held at 11am on Saturday, November 18, 2017 at the Richland Cemetery in Boyleston.
In lieu of flowers, the family requests that donations be made to the Antioch Christian Church and will be accepted at the Johnson and Vaughn Funeral Home which is in charge of the local arrangements.