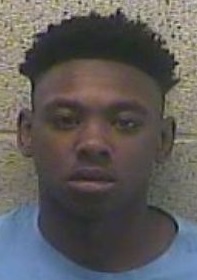 MURDER SUSPECT NABBED IN ALBION – Members of the U.S. Marshals Fugitive Task Force and the Illinois State Police have arrested an 18-year-old Henderson , KY man, Deangelo Pollard, in connection with a robbery and fatal shooting at Lawndale Apartments in Henderson, KY on Friday, Nov. 10.  According to a press release from the Henderson Police Department, law enforcement had received information that Pollard had fled the area and was staying at a residence at 306 S. Second Street in Albion Illinois. Pollard will be held in the White County Jail at Carmi pending extradition back to Henderson.  The victim — Devin Fields, 21, of Illinois — was found around 5:30 on the evening of Nov. 10 in a parked car at the Henderson apartment complex. He had been shot, city police said.
The Fairfield Kiwanis Club Christmas Parade is set for Saturday evening with a new start time of 4:30 p.m.  This year's parade marshals will be sisters, Jami and Niki Roethe, the operators of Uniquely Rustique in Fairfield. If you cannot attend Saturday evening's parade, an account of the event will be broadcast live on WFIW-FM 104.9 as a courtesy of FNB Community Bank.
The annual Festival of Lights event at Leo French Park opens tonight. Lighted Christmas displays will be featured throughout the park during the entire month of December.  On Fridays, Saturdays and Sundays, volunteers will be hosting the event, handing out candy and collecting donations to help pay the utility bill for the display.
The 10th annual Christmas Uptown Festival is this evening from 4 – 9 p.m. on Mt. Carmel's Market Street. Two blocks of Market Street will be transformed into a festive Christmas playground for kids.
The Automotive Technology Program at Frontier Community College recently received an $8,000 donation from Fairfield resident Grace Sullivan. The money fully funded the purchase of an electronic trainer, which will enhance student's educational experience in multiple Automotive Classes.
Three Frontier Community College nursing students have been awarded $500 Vicky Lemons Memorial Scholarships for the 2017 fall semester. The recipients are Amber Atteberry of Mt. Erie, Macy Locke of Fairfield and Desirae Harrison of Cisne.  Vicky Lemons served as a member of Frontier's nursing faculty from 2006 until her passing in 2015.
TV news anchor Brad Byrd of Evansville was the keynote speaker at this Thursday's meeting of the Fairfield Rotary Club.  Byrd spoke of the effects of social media on the way people get their news today.  Byrd is in his 40th year as Lead Anchor of "Eyewitness News".