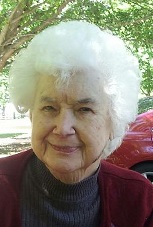 Albredia Joyce Rudisill, 84, of Albion, Illinois, died Sunday, December 3, 2017, at Aperion Care Fairfield, formerly Wayfair Nursing Home, in Fairfield, Illinois.  Joyce was a home healthcare worker and member of The River Church in Mt. Carmel, Illinois.  She enjoyed playing BINGO, horse racing, playing cards, crossword puzzles, and fishing.
Survivors include daughter Diana (Larry) Goldman of Albion, IL; grandchildren Sabrina (Jack) Miller-Yates, Mark Miller, April (Jerry) Beehn, Randy (Jessica) Swain; great grandchildren Shelby, McKenzie, Justice, Brianna, Janna, Amelia, Taylor, Cicely, Logan, Jaxton, Rilynn, Kannon; great great grandchildren Sam, Addie, Riley, Khai, Lucian.
Visitation and funeral are Wednesday, December 6, 2017, at Cook Funeral Chapel in Grayville.
Visitation is 10 am to 12 noon, with funeral at noon. Burial is in Oak Grove Cemetery in Grayville.