KIWANIS PARADE WINNERS – Girl Scout Troop 8776 won the Grand Marshal's Choice Award following the annual Fairfield Kiwanis Club Christmas Parade Saturday night.  Frontier Community College was awarded the "Best Use of Lights" award. Jami and Nicki Roethe, operators of Uniquely Rustique in Fairfield were this year's parade marshals. Other winners were: In the youth, school and adult organizations category – Girl Scout Troop 87767 first place and Frontier Community College second place. In the church category, First United Methodist Church took first with Northside Baptist Church taking second. In the business category, Fairfield Banking Company took first with Zebra Lawn Care taking second. IN the Individual, animal and antique category, Fairfield Rural Fire Department took first and Bryant Miniature Horses taking second. There were three bands participating this year – Fairfield Community High School, Center Street School and the Wayne City marching band.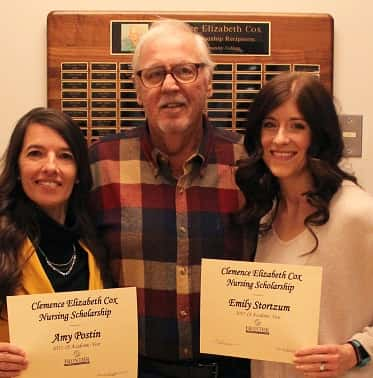 COX SCHOLARS NAMED  – Frontier Community College recently awarded the Clemence Elizabeth Cox Scholarship to two nursing students.  The semi-annual scholarship awards $500 to two second-level nursing students of FCC.  The semi-annual Clemence Elizabeth Cox Scholarship has been awarded to Amy Postin of Flora (left) and Emily Stortzum of Louisville (right) .  Both Postin and Stortzum will complete the Associate Degree in Nursing in May 2018.   Clemence Elizabeth Cox was well known in the Fairfield community.  She and her husband James (Jim) Cox operated the Western Auto store in Fairfield for many years and were the builders and first operators of the Uptown Motel.  At one time she also ran a retail baby shop.   Mrs. Cox was a member of the Fairfield First Christian Church and involved with numerous clubs including Younger Women's Club, Fairfield Women's Club, Fairfield Beautification Committee, Fairfield Garden Club, and the Fairfield Memorial Hospital Auxiliary.  She was a 1933 graduate of Fairfield Community High School. This memorial scholarship has been established by Jerry Cox of Mill Shoals (pictured above center) , the son of John and Clemence Cox.  Jerry is a retired salesman for Airtex Products, a Southern Illinois University graduate, and a Vietnam veteran.  Grateful for the care that both his parents received in the hospital and nursing home, and knowing the care nurses give to the VA patients, Jerry thought it only fitting to award the scholarship to nursing students.
An Enfield deer hunter was seriously injured Saturday afternoon when he fell from a tree stand he was attempting to enter. J.J. McKinney, an area farmer, suffered leg fractures and was taken to Deaconess Hospital in Evansville.  The accident happened south of Burnt Prairie around 2 p.m. Saturday.
Don't get used to the unseasonably mild weather we have experienced over the past week. Forecasters are calling for a sharp cold front to sweep across the region Monday night followed by much colder temperatures.  A chance of snow showers or light snow is in the forecast in the Thursday through Friday evening time frame.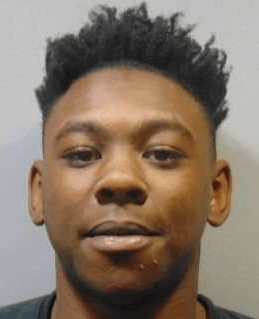 18-year-old Deangelo Pollard of Henderson, KY was arrested at a home in Albion Friday in connection with the November 10 slaying in Henderson, KY. Pollard is accused in the slaying of 21-year-old Devin Fields of Oglesby, Ill.  Pollard is being held in the White County jail at Carmi pending extradition back to Kentucky.
Fire destroyed a large warehouse in Mount Vernon Saturday. The 200 X 400 ft. structure was owned by Kendrick Paper Supply at 13th and Logan Street in Mt. Vernon. Several area fire departments battled the blaze. The State Fire Marshal's Office is investigating the cause.