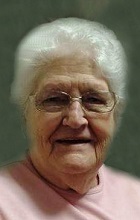 Ruth E. Thomas, 88, of Carmi, Illinois, died Monday, December 4, 2017, at Hamilton Memorial Hospital in McLeansboro, Illinois.  Ruth was a member of the First United Methodist Church in Carmi.  Her work career includes Ainsbrook Corporation and Wags Grocery Store.
Survivors include son Keith (Kathy) Millspaugh of Newton, Illinois; daughter-in-law Jane (Jim) Oglesby of Kentucky; stepsons Steve Thomas of Mt. Vernon, Illinois, and Bill Thomas of Xenia, Ohio; step daughter Sandra of Xenia; grandchildren Jeremy (Tiffany) Millspaugh, Amber (Rick) Lindemann, Brianne (Aaron) Wilson, Dusty (Samantha) Millspaugh, Whitney Millspaugh;  great-grandchildren RJ, Heidi, Hannah, Eli, Lainey, Caden, Allyssa, Levi, and Brantley.
Visitation and funeral are Friday, December 8, 2017, at Cook Funeral Chapel in Carmi.  Visitation is 11 am and continues until funeral time at 1 pm.  Burial is in White County Memorial Gardens.
Memorials may be made to the American Cancer Society or First United Methodist Church of Carmi, and will be accepted at Cook Funeral Chapel.