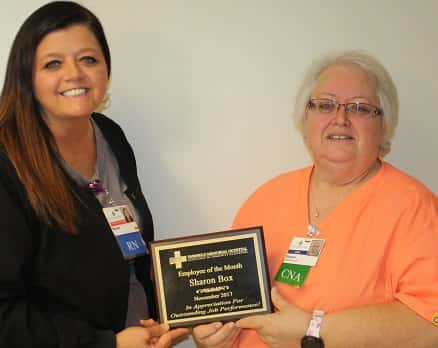 Fairfield Memorial Hospital honors employees monthly for providing exceptional patient care and customer service internally and externally.   In November, Sharon Box, CNA, was named Employee of the Month.  She has worked for Fairfield Memorial Hospital for nearly two years and currently serves as the unit secretary on the Skilled Care Unit.  Sharon previously served as the midnight CNA and would go above and beyond for her patients and fellow coworkers.  She ensures the standard of quality care is always exceeded by making certain all of the patients are comfortable and their needs are met.  Even on the most difficult days or nights, she is always upbeat and ready to take on additional tasks. In September, Sharon has transitioned into serving as the unit secretary during the day shift and her coworkers are in awe of her skill. "Since Sharon has stepped into the role as our unit secretary, she has gotten the department well organized.  After putting her organizational skills to work, we now have an even better work flow. All of the nurses brag about how she keeps everything extremely organized, and how wonderful of a job she is doing.  Sharon not only works as the unit secretary, but she also helps the staff provide patient care.   I truly believe if someone looked up 'excellent care giver' in the dictionary, they would find a description of Sharon Box. She is truly a blessing to our team," stated Mariah Minor, Skilled Care Unit Nurse Manger.
Pictured is Mariah Minor, FMH Skilled Care Unit Nurse Manager, presenting the Employee of the Month Plaque to Sharon Box, CNA, Skilled Care Unit Secretary.
Former Carmi Alderman Jack Lamont has been sentenced to 30 months of second chance probation after pleading guilty to charges he stole thousands of dollars' worth of foreign and US coins from an elderly WW II veteran's estate.  Lamont, 78 was also ordered to pay over $12,000 in fines, fees and court costs, which includes $5,000 in restitution. The judge also ordered Lamont to serve 50 hours of community service.  The coins had been the property of WW II and Korean War veteran Robert Hughes. Proceeds from his estate – including the stolen coins – were to go to to the White County Senior Citizens Center.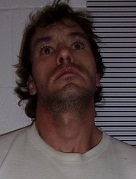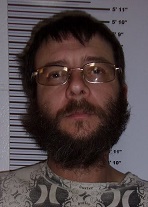 Two Flora men have been jailed on charges they tried to steal copper wire from a power line near Zif. The suspects are Andrew J. Staley, 37 and Ryan M. Staton, 36, both of Flora. During the alleged theft, a wire bounced back into high voltage power lines, knocking out power to over 1,600 customers.
Only two races have developed in Wayne County for the March, 2018 General Primary Election.  On the Republican ticket, Incumbent Sheriff Mike Everett is being challenged by Fairfield native and Jefferson County Sheriff's Deputy Marty Keoughan. And for county board in District 6, Slim Tanner is challenging Bruce Reeves.
An active assailant drill will be held this afternoon at the Carmi-White County Junior Senior High School. The drill will begin at 2:45. No students will be present during the drill.
31-year-old Amanda Scott of Fairfield has been arrested on charges she was in possession of meth, a controlled substance and marijuana. She was also wanted on a Wayne County warrant for violating an order of protection.