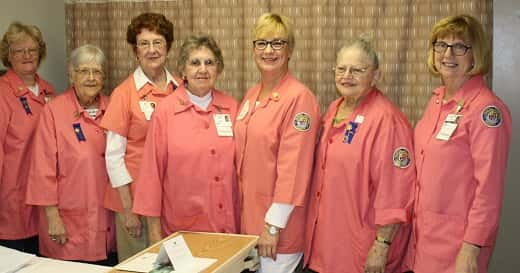 FMH AUXILIARY DONATES – Fairfield Memorial Hospital is in the process of enhancing the atmosphere of the rooms and hallways on the Medical Surgical Unit.  In doing so, the Fairfield Memorial Hospital Auxiliary volunteered to assist with the purchase of new patient privacy curtains for each room to complement the new color scheme.  Therefore, with the donation of $5,400 all of the Medical Surgical Rooms have new curtains.  The look had not been updated since 1998.  Pictured from left to right are the FMH Auxiliary Executive Committee Members: Joy Coles, Pat Vaughan, Treasurer; Eva Lane, Judy Gruner, Vice President; Pat Kenshalo, Anita Newcomb; and Phyllis Hilliard, Secretary.
Strong winds are expected across the entire region today with gusts of 30 – 40 mph. The gusty winds will cause some loose objects such as Christmas decorations to blow around. In addition, the strong southwest winds in combination with dry vegetation across the region will create an elevated fire danger. Area residents are urged to use great caution when burning leaves or trash as even the smallest of fires can spread out of control in a matter of moments.
The latest winners in the Fairfield Community High School After Prom Committee's 12 Days of Christmas promotion have been announced. For December 10, Marcia Simpson wins $500. For Dec. 11, Mark Young wins $250. And, for December 12, Diana Marsh wins $200.
The Albion Liquor Commission met this week to consider an expansion of the liquor license for the new owners of the Albion bowling center. The commission approved the request subject to approval by the Albion City Council.
Frontier Community College will be closed for Christmas break, starting next Tuesday, Dec. 19 and will reopen on Monday, January 2. Anyone still needing to register for classes needs to visit Student Services as soon as possible. Campus hours are Monday-Friday from 7:30 a.m. – 4:30 p.m.
The Mount Erie Ruritan Club is still accepting items for their annual Farm Machinery Consignment Sale. The event has been set for January 15 starting at 9 a.m. at the Mt. Erie Ruritan building and grounds. Items need to be consigned no later than Dec. 23 to be listed on the official sale bill. Contact sale manager Steve Bass for more information.