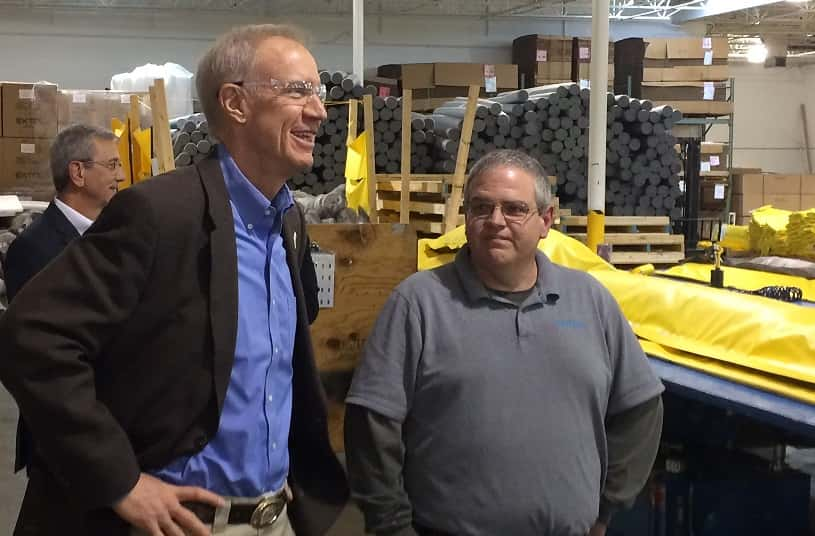 SURPRISE VISIT – Illinois Governor Bruce Rauner made a surprise stop in Fairfield Thursday afternoon, touring the Elastec Marine facility. Rauner used the stop to call on Illinois lawmakers to set term limits on legislative officeholders, cut regulations on businesses and roll back the recently imposed income tax increase. Rauner told employees at Elastec that an improved business climate in Illinois would result in higher wages for workers.  He also promised to promote Elastec around the world as he meets with international leaders.

LIGHT TOUR WINNERS – Winners have been announced in the Fairfield Lions Club-sponsored Senior Citizens Christmas Light Display tour. Taking first place was the home of Mr. and Mrs. Hugh Sons. Second place went to the Jerry Vaughn home with third place taken by the home of Diana Zurliene. Senior Citizens also chose the K & M Diner on South First Street as the Fairfield business with the best holiday light display. In addition to taking a bus tour of Christmas light displays around Fairfield, Seniors were also treated to a light meal and Christmas music after the tour at the Community of Christ Church.
Copper thieves are at it again – this time in White County.  Thieves made off with copper ground wires from a tower owned by Mobile Radio Specialists of Grayville. The site targeted was near Burnt Prairie. Another nearby tower, owned by Verizon was also hit.  Last week, thieves stole copper wire from a T-Mobile tower south of Wayne City.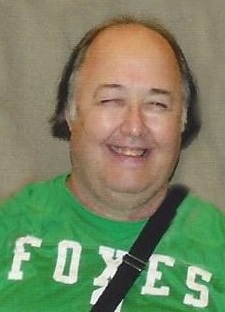 Charlie "Super Fox" Pendell of McLeansboro has died. He was 60-years-old. "Super Fox" was known throughout Southern Illinois as one of the most avid McLeansboro Foxes sports fans ever. He had been a sportswriter for the McLeansboro newspaper and coached youth sports in the McLeansboro community. A scholarship fund has been established in his memory.
Fairfield utility customers will see a second $10.20 water meter charge on their January bill. The extra billing is necessary because of an error that omitted the charge during the December billing cycle.
Kemper CPA Group addressed the Fairfield City Council this week, informing aldermen of areas where the city is losing money. Red ink is being seen in the water department and garbage pickup accounts. The council also approved the annual tax levy, which amounts to $745,831 – the same as last year.
45-year-old Lori Aydt of Ina received major injuries Wednesday when the Toyota Camry she was driving ran under the rear bumper of a semi on I-64. Aydt was airlifted from the scene to a St. Louis hospital.
Richard Atteberry of Fairfield is the latest winner in the Fairfield Community High School 12 Days of Christmas fundraiser. Richard wins $150.
The 16th annual in-house charity auction at the Illinois State Police Post in Carmi raised $1,400.  As a result, District 19 will make $200 donations to charitable organizations already identified in each of the seven counties it serves.  The donations will benefit programs for underprivileged children.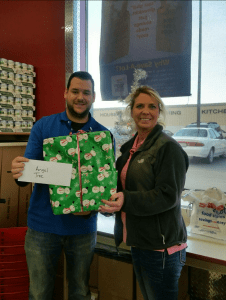 The Fairfield Save-A-Lot collected money at their registers this holiday season from customers and matched a percentage of all their donations for WADI's Angel Tree program, resulting in a $400 donation. Pictured are Tyler Lampley of the Fairfield Save-A-Lot and Carrie Sarles of WADI.