MERRY CHRISTMAS !
Area police will increase patrols through the end of the year in an effort to cut down on the number of fatal traffic crashes. Illinois is experiencing its second straight year of more than 1,000 fatal traffic crashes. Heightened patrols will concentrate on taking drunk drivers off the roadway.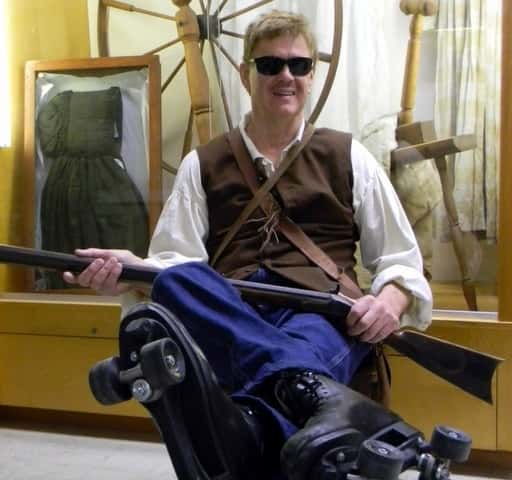 All Wayne County grade school students are invited to a free skate party this Wednesday evening at Skateland Rollersport in Fairfield. The event is being sponsored by the Wayne County Historical Society.  Skaters are encouraged to come dressed as their favorite person from American history.  The event will be from 5:30 – 7:30. Costume judging will begin at 6 with the first-place winner receiving $30 and a Wayne County Historical Society-sponsored pizza party for their classroom at school. Wayne County Historical Society President Michael Mossburger plans to lead by example by attending the skate party dressed in an authentic Revolutionary War militia uniform. (pictured above)
A slew of new laws will take effect on January 1 in Illinois. One of the most controversial laws is a bill that expands abortion in Illinois. The law allows for the use of tax dollars to fund abortions for any reason, including elective procedures.
Starting January 1, a new law requires school districts to make feminine hygiene products available at no costs to students in restrooms of school buildings.
Starting January 1, a new Illinois law allows the State's Attorney to charge someone with drug induced homicide even when the delivery of the drugs to the victim which resulted in a death occurred outside the state.