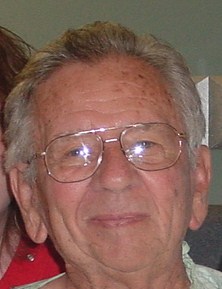 Richard Merrick, 90, of Fairfield, died at 7:35pm on Saturday, December 23, at Cisne Rehabilitation and Health Center. He had been a boat salesman and had also been the owner of the Glass Door Inn in Fairfield. He was a veteran of the United States Army, serving during World War II and was also a mason.
Survivors include one daughter Cindy Merrick of Indianapolis, Indiana, one granddaughter Jennifer Michelle Richards and one great grandson Marshall Quinn Richards.
Funeral services for Richard Merrick will be at 2pm on Friday, December 29, at the Johnson and Vaughn Funeral Home in Fairfield with burial in Maple Hill Cemetery.
Visitation will be from 1pm until 1:45pm at which time a Masonic service will be held.  The Johnson and Vaughn Funeral Home is in charge of arrangements.
Memorials may be made to the American Cancer Society and will be accepted at the Johnson & Vaughn Funeral Home in Fairfield.