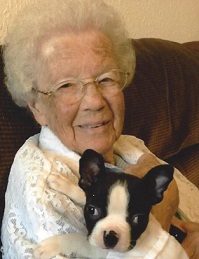 Fannie Mae (Meritt) Duvall, 89 of Fairfield died at 8:20 AM, Wednesday December 27, 2017 at Aperion Care in Fairfield. Fannie worked 46 years at Fairfield Memorial Hospital and Way-Fair Nursing Home and also did volunteer work.  She was 2012 citizen of the year and Grand Marshall for the Christmas parade.
She is survived by her son Tom Duvall of Fairfield, daughter Connie (Mike) Kunstman of Salem, grandchildren Cheryl (Ronnie) Bauersachs of Campbell Hill, IL, Dr. Wesley (Lachelle) Thompson of Fairfield, Chris Duvall of St. Louis, Kelli (Ryan) Clark of St. Louis, Nikki Brubaker of Salem, Brandy Santiago of Centralia, Damon DeBoer of Salem, and Kiwi Kunstman of Salem, great grand children Emily, Ryan, Claire, Paige, Molly, Serenity, Elara, Noah, Karina, Lainey, and Tailyn, and brothers Jim (Dot) Meritt of Fairfield, Darrell Meritt of Fairfield, Kenny (Carolyn) Meritt of Denver, CO, and Ferrell (Nancy) Meritt of Manhattan, KS.
Funeral Services for Fannie Duvall will be held at 1 PM, Saturday, December 30th at Johnson and Vaughn Funeral Home, with burial in Shrewsbury Cemetery in Mill Shoals.
Visitation will be held on Saturday from 10 AM until the time of service at the Johnson & Vaughn Funeral Home in Fairfield.
In lieu of flowers memorial donations may be made to Aperion Care Activity Dept. or Fairfield Memorial Hospital Skilled Care Activity Dept. and will be accepted at the funeral home.