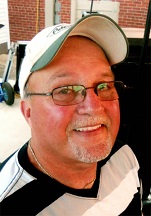 David E. Downs, 62, Grayville, passed away in St. Louis, MO, on Tuesday, January 2, 2018.   David "Double D," Downs was a self-employed Peterbilt truck driver by trade and a drummer at heart, loved building and racing fast cars.  In his younger days he worked as a mechanic in the oilfields.  David was a member of several different bands.  He and his best "Roadie" Bek enjoyed many venues; he especially enjoyed playing at the annual Grayville Memorial Day 500 Party.  David was a member of the Grayville Moose Lodge (where he was awarded Officer of the Year in 2017), and was awarded Moose of the Year at both the State and International levels.  He was also a member of the National Hot Rod Association, and a past member of the Mt. Carmel Eagles.
David is survived by his wife Bek; a son Josh (Allison) Downs of Grayville, his greatest joy – Grandson Landon, Daughter Crystal (Danny) Hale of Maunie, IL; Grandchildren Kayla & Dakota; Stepson Doug (Michelle) Duncan, Grayville.  Sisters Marilyn Downs, Teresa (Rick) Johnson; Brother Danny (Tammy) Downs all of Grayville.  His mother-in-law Melba Fulkerson who he considered Mom.  Sisters-in-law Linda (Ernie) Bingman, Carmi, IL, Brenda Pfister, Debbie Broyles, McLeansboro, IL.  David is also survived by several Uncles, Nieces, Nephews and Cousins along with life-long friends Rick & Terri Conner, Dennis & Kay Mundy and David & Donna Burrows.
David was preceded in death by his parents and a brother, Kenneth Downs.
In keeping with David's wishes, his remains were cremated.  Visitation and memorial service are Saturday, January 6, 2018, at Cook Funeral Chapel in Grayville.  Visitation is at 11 am and continues until memorial service at 2 pm.
Memorial contributions can be made to the Landon Downs Educational Fund and will be accepted at Cook Funeral Chapel in Grayville or the Fairfield National Bank in Grayville.