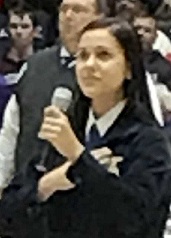 Kaley Konopasek sang the National Anthem to open the SIU FFA Night basketball game at the SIU Arena on Wednesday January 3, 2018.   Kaley's family, advisors, and 37 Cisne FFA members attended.  In addition, SIU has offered Kaley a $500 scholarship for her performance.   The fourth annual SIU FFA Night at the Game offered opportunities for members across southern Illinois.   Each student received a free ballgame ticket and a meal ticket for the concession stand.  A $500 scholarship was also awarded prior to the game.  All FFA members in attendance were entered in the drawing for a chance to win.  Farm Credit Services served as the official event sponsor.
The North Wayne School District is the recipient of a number of donations.  $500 each was given by Peoples National Bank and First Financial Bank of Fairfield for the Cisne High School FFA program.  A $1,000 anonymous donation was made to Cisne Middle School and another $2,000 anonymous donation was made to Cisne High School.
The 34th annual Wayne County Corn Growers Seminar is this Friday at the Geff Ruritan building. Registration will begin at 8:30 a.m.  Kim Holsapple, grain manager and merchandiser from Total Grain Marketing will give the annual marketing outlook.  WEHT meteorologist Wayne Hart will be on hand for a spring planting outlook.
Shawn Levi has been hired as technology coordinator for the North Wayne School District.  Ben Farleigh has been hired as Cisne High School spring baseball coach. And, Jeff Baker has been hired as Cisne High School assistant softball coach.
The Albion City Council met this week.  Aldermen heard the first reading of a request for a liquor license for the local bowling alley. A second reading will be held next month.
The Fairfield Public Golf Course will kick off the first of four porkburger cookouts this Saturday in front of the Wayne County courthouse in downtown Fairfield.  Serving will begin at about 10 a.m. Proceeds will help prepare the course to open for a new season.