2017 was the sixth warmest year on record for Illinois with an average temperature of 54.3 degrees which is 2 degrees above normal. Statewide precipitation was 37.65 inches, about 2.3 inches below normal.
Edwards County Sheriff Darby Boewe reports the arrest Thursday of 56-year-old Freda A. Parker. Parker, who lives on S. Fifth Street, was wanted on a felony possession of a controlled substance warrant out of St. Louis. Bond was $15,000.
Illinois State Police investigated 364 traffic crashes during 2017. Four of those accidents were fatal crashes resulting in five deaths. Troopers also wrote nearly 7,000 tickets and over 10,000 written warnings in 2017 and made 160 criminal arrests.

The 34th annual Corn Growers Seminar is today at the Geff Ruritan building. Those attending will hear an update on new 2018 laws and guidelines and a planting forecast from TV meteorologist Wayne Hart.  Kim Holsapple with Total Grain Marketing will give the annual marketing outlook.  A free fried chicken and roast beef dinner will be served at noon.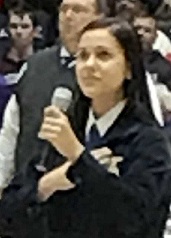 Kaley Konopasek sang the National Anthem to open the SIU FFA Night basketball game Wednesday evening at the SIU Arena. For her performance, SIU offered Kaley a $500 scholarship.  Kaley's family, advisors and 37 Cisne FFA members attended the event.
Kiera Freeman, the daughter of Jasent and Tamela Freeman is the winner of the Geff Grade School Spelling Bee.  Brett Hallam, son of Ron and Sheila Hallam was runner-up.