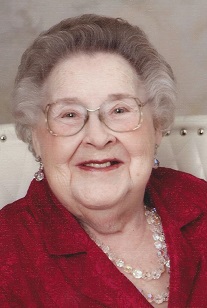 Ann Green, 91 of Fairfield died at 10:30 AM, Wednesday, January 10, 2018 at her home.  She was a longtime member of the New Hope General Baptist Church, where she organized the first VBS, taught Sunday School, and led the singing.  Ann was an avid gardener and quilter, and was a 4-H leader for many years.  She exhibited many items at the Wayne County Fair and received many championship ribbons.
Ann is survived by her husband Max Green of Fairfield, daughters Marilyn Yates of Flora and Cheryl (Greg) Basnett of Fairfield, son Max Dee (Ruby) Green of Fairfield, grandchildren- Jon Yates, Tim Yates, Eric Basnett, Lori Kovacich, Ross Basnett, Reid Basnett, Ryan Green, and Jenny Lee, great grandchildren- Jaxon Basnett, Reagan Basnett, Kendyn Basnett, Breychan Kovacich, Taylann Kovacich, Annalyn Kovacich, Peyton Lee, and Kylie Green, a brother William E. "Sid" Harlan of Marion, and a sister Rita (Preston) Mathews of Fairfield.
Funeral services for Ann Green will be held at 11 AM, Saturday, January 13, 2018 at the Johnson and Vaughn Funeral Home, with burial in Maple Hill Cemetery.
Visitation will be held on Friday from 5-7 PM at the Johnson & Vaughn Funeral Home in Fairfield.
Memorials in her honor may be made to the New Hope General Baptist Church and will be accepted at the Johnson & Vaughn Funeral Home in Fairfield.