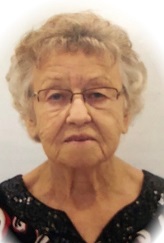 Dorothy O'Daniel Medler, age 96, of Sparta, IL, formerly of Albion, IL, died on Tuesday, January 9, 2018 at 8:00 p.m. in her home. She had worked for over 30 years as a clothing supervisor at Johnny Manufacturing, Albion, IL. She lived in Zephyr Hills, FL for 22 years before moving to Sparta, IL. Dorothy was a member of the First Baptist Church in Albion.
Survivors include her son, Cecil O'Daniel of Crossville, TN; her daughter, Lena (Connie) O'Daniel Wiggins of Sparta, IL; eleven grandchildren; sixty-five great-grandchildren; and forty-two great-great-grandchildren.
Funeral services for Dorothy O'Daniel Medler will be 11 a.m. Friday, Jan. 12 at the Bethel United Methodist Church, Ellery with burial at the Bethel United Methodist Cemetery at Ellery.
Visitation will be from 9 a.m. Friday until the time of service at the Bethel United Methodist Church in Ellery.
Memorial donations may be made to Bethel United Methodist Cemetery, Ellery and will be accepted at the church.
The Pyatt Funeral Home of Coulterville, IL is in charge of arrangements. Nale's Funeral Home of Albion provided information regarding Mrs. Medler's obituary.