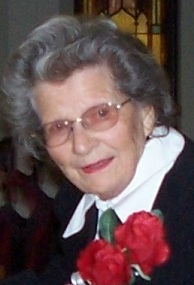 Dorothy Bayler, 103 of Fairfield died at 11:36 AM, Sunday, January 14, 2018 at Hamilton Memorial Hospital.  In her early years she had been a telephone operator before her and her husband John D. Bayler moved to their farm in 1947.  Dorothy particularly enjoyed sewing and was a great bread maker.  She also led a 4-H Club for many years and was a member of the First Christian Church in Fairfield.
Dorothy is survived by a daughter Karen (Harry) Mayfield of Fairfield, grandchildren- Carol (Mike) Dreith, Jeffrey (Cindy) Mayfield, Douglas (Angie) Mayfield, and Brenda (Jeffrey) Large, great grandchildren- Ryan Medder, Rachel Parsley, Rebekah Clevenger, Kendra Mayfield, Jason Mayfield, and Tucker Mayfield, and great great grandchildren- Lexa Parsley, Barrett Clevenger, and Grant Clevenger.
Funeral services for Dorothy Bayler will be held at 11 AM, Wednesday, January 17, 2018 at Johnson and Vaughn Funeral Home, with burial in Maple Hill Cemetery.
Visitation will be from 10 AM until the time of service.  Memorials in her honor may be made to the Wayne County 4-H.