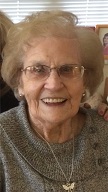 Laura Laverne (Wade) Plock, 96, of Carmi, passed away at 7:30 a.m., Monday, January 15, 2018 at Wabash Christian Village, She was born in Hamilton, Co on February 24, 1921 the daughter of James Clifford and Mary Frances (Upton) Wade. Laura married William Herman Plock on June 2, 1939 and he preceded her in death on July 20, 1996.  She had worked on the assembly line at Rex Filter in Barnhill and was a lifetime homemaker. Laura was a member of the Springerton Christian Church where she was a teacher of an adult Sunday School class. She loved writing poetry and stories that she would often share at church.
Laura is survived by two daughters, Loretta June (Robert) Hillyard, of Norris City and Linda Yvonne Staton, of West Salem, IL; 9 grandchildren, Darrell, Scott (Amy) and Brian (Eddi) Plock, Barb (Michael) McFarland, Christine (Darrin) Downen, Jayme (Bryan) Cowling, Michael (Jessica) and Steven (Michelle) Hillyard and Jennifer Bittles; 23 great-grandchildren, Adam and Ryan Plock, Ginger (Dwayne) Beavers, Doug and Matthew Miller, Jessica (Kyle) Craft, Kayla (Jonathan) Hamson, Chayce and Ashtyn Cowling, Madison Hillyard, Alix MacDonald, Brady Minton, Courtney Hargrove, Shyla, Ahdom, Tori,  and MaKayla Hillyard, Gracie and Abijah Bittles, Brendon McFarland, Rebecca and Dustin Downen and Kristian (Alex) Collins; 5 great-great-grandchildren, Madison Miller, Everleigh Miller, Laython and Myles Craft and Brantley Hamson.
She was preceded in death by her parents, James Wade and Mary Becker, husband, William Plock, two brothers, Minor and Leslie Wade, three sons, Darrell Eugene, Carroll Dean and Herman Curtis Plock, a daughter, Patsy Maxine Murdach; a grandson, Robert Staton; a daughter-in-law, Pauline Plock; and a granddaughter-in-law, Sandy Plock.
Funeral services for Laura Laverne (Wade) Plock, 96, of Carmi, will be held 10:30a.m., Saturday, January 20, 2018 at Springerton Christian Church in Springerton, IL. Burial will be in Springerton Cemetery in Springerton, Visitation will be from 6:00 p.m. to 8:00 p.m. on Friday, January 19, 2018 at Campbell Funeral Home in Carmi and starting at 9:30 a.m. on Saturday at Springerton Christian Church. Memorial contributions may be made in Laura's memory to Springerton Christian Church and will be accepted at Campbell Funeral Home in Carmi who is in charge of arrangements.