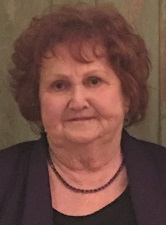 Ruby Pryor Dunn (Harvey), 86, of Fairfield and formerly of Dale and Carmi passed away at 10:40 a.m., Friday, January 12, 2018, in Fairfield.   Before she was employed by Norge, she gleaned corn, cleaned houses, cooked and waited tables at both the City Café and the Echo Motel and Restaurant. Ruby was one of the first women to be employed as an underground coal miner at Old Ben 21 where she worked for 25 years.
She was a self-taught seamstress who made her own patterns, was a sought-after cake decorator, painter, caterer, and gardener.
Survivors include three daughters, Shirley (James) Davis of Fairfield, Brenda (Jerry) Brockett of Rhinebeck, NY and Janet (Randy) Hamblin of Carmi; step-son, Scott (Kim) Dunn of Harrisburg; a sister, Delia Johnson-Black of Kent, OH; five grandchildren, Christina Baker, Bethany (David)Hall, Andrew (Erika)Hamblin, Matthew Hamblin, and Ryan Dunn; five great-grandchildren, Khrysten Baker, Deavon Baker, Ethan Hamblin, Bryden Hall and Reid Hall; along with three great-great- grandchildren, Sophia, Bentley and Karsyn Baker.
Funeral services for Ruby Pryor Dunn (Harvey) will be at 11:00 a.m., Friday, January 19, 2018 at Campbell Funeral Home in Carmi with burial will be in Digby Hill Cemetery in Dale.
Visitation will be from 5:00 p.m. until 8:00 p.m. on Thursday at Campbell Funeral Home in Carmi.
In lieu of flowers if you prefer, memorial contributions may be made in Ruby's memory to St. Jude Children's Research Hospital or Pets at Risk and will be accepted at Campbell Funeral Home in Carmi.