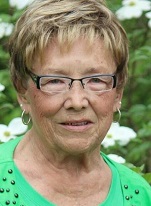 Wynema Marie Tidball, 85 of McLeansboro, died at 7:35 AM, Wednesday, January 17, 2018 at Heritage Woods of McLeansboro.  Born on September 12, 1932 in Wayne County to Glenn and Edna (Walker) Legg, she had worked at Elders Shirt Factory and the dress factory in McLeansboro.  Wynema enjoyed spending time with her family and attending auctions with her late husband Lester Tidball.  She was a member of the First General Baptist Church of McLeansboro where she had many lifelong friends, Sunday School Teachers, and church family that she loved.
Wynema is survived by a son Gary (Charlene) Tidball of Berea, KY, a daughter Tena (John) Karcher of McLeansboro, 5 grandchildren- Beth (Chad) Ahren of Indianapolis, IN, Brooke Tidball of Olivette, MO, Sarah (Justin) Bilderbeck of McLeansboro, Dustin (Erica) McCormick of McLeansboro, and Lexi (Anthony) Jamerson of Benton, IL, 10 great grandchildren plus one on the way, a brother Delbert Legg of Herscher, IL, and sisters Janet Shelton of Fairfield and Joan Sons of Barnhill.  She was preceded in death by her parents, husband, and a brother.
Funeral services for Wynema Tidball will be held at 1 PM, Saturday, January 20 at the Johnson and Vaughn Funeral Home in Fairfield, with burial in Maple Hill Cemetery.  A visitation will be held on Saturday from 11 AM until the time of service.  Memorials in her honor may be made to the First General Baptist Church in McLeansboro.