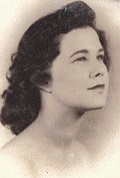 Betty Ayers, 92, formerly of Cisne, died at 12:36pm on Wednesday, January 17, 2018 at SSM Good Samaritan Hospital in Mt. Vernon, IL. She had worked as a private secretary for the vice president of Chicago Title and Trust for 4 years and then worked as the practice manager for her husband's dental practice in Fairfield until their retirement. She had also been the scorekeeper for the Citrus Park softball league in Citrus Park, Florida for 23 years.
Survivors include her husband J Russell Ayers, three daughters Randy Bares of Broughton, IL, Heidi (Mike) Deets of O'Fallon, IL, and Suzy (Larry) Tate of Mt. Vernon, IL, 5 grandchildren, 3 great grandchildren, and two sisters Mildred Obrecht of Cisne, IL and Glenda (Marion) Elliott of Woodson Terrace, Missouri.
Graveside services for  Betty Ayers will be at 1pm on Friday, January 19, 2018 at the Cisne Cemetery in Cisne, IL. There will be no visitation. Family and friends are asked to go directly to the cemetery.
In lieu of flowers, memorials can be made to the Cisne Christian Church and will be accepted at the graveside or at the Johnson and Vaughn Funeral Home in Fairfield, which is in charge of arrangements.
Condolences can be left for the family at www.facebook.com/johnsonvaughnfuneralhome