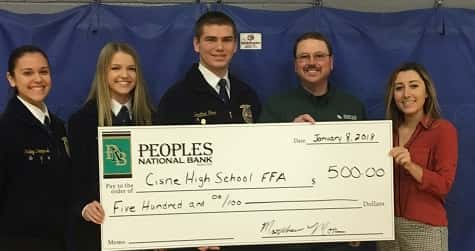 37 students from the Cisne FFA went to SIU game on January 3, 2018.  Kaley Konopasek, an FFA National Choir member sang the National Anthem before the game.  Kaylee received a $500 scholarship for singing for her efforts.  Peoples National Bank donated $500 to make this trip possible. Pictured – Cisne FFA students Kaylee Konopasek, Jenna Attebery and Jonathan Timm, with Matt Moore and Sarah Molt of Peoples National Bank.
37-year-old Andrew J. Staley of Flora has been sentenced to two years in prison after pleading guilty to his role in the theft of copper wire from a Wayne-White Electric line near Zif last November.  Staley's co-defendant Ryan M. Staton, 36 of Flora is scheduled to enter a plea in the case on January 22.
43-year-old Heather Browning of Carmi has been sentenced to four years in prison after she violated the terms of her probation on a previous conviction by being arrested for burglary in White County.  Browning was sentenced Thursday in Hamilton County Circuit Court.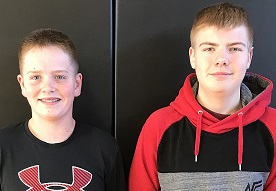 Landon Harrelson, the 6th grade son of Melvin and Julie Harrelson is the winner of this year's New Hope spelling bee.  Kelby Rush, the 8th grade son of Shaun and Kelli Rush is the runner-up. Both advance to the Wayne County Spelling Bee on Feb. 1.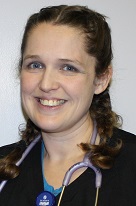 Registered Nurse Jennifer Smith has been named the Fairfield Memorial Hospital Employee of the Month for January.  Jennifer works as a night shift nurse in the Medical/Surgical Unit and Intensive Care Unit.
More than $28 million has been spent in the last three months in the race for Illinois governor.  Campaign disclosure reports show that $9 out of every $10 was spent by two candidates – Republican Governor Bruce Rauner and Democratic challenger J.B. Pritzker. The election isn't until November.
Larry Beck of Carmi has been re-elected as President of the White County Farm Bureau.  Beck was elected during the 97th annual gathering of members on Wednesday.  Bryce  Williams of Enfield will serve as vice president with Kevin Seifried of Grayville as secretary-treasurer.