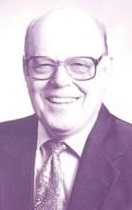 Douglas "Doug" Atteberry, age 85 of West Salem died on January 18, 2018. He graduated from Decatur Barber College and was a barber for many years. He also was an account representative for WVLN Radio in Olney, Il for 7 years and had a weekly radio show featuring Jazz musical stylings. He later held that same position at WFIW Radio in Fairfield, IL for 20 years and continued sharing his love of Jazz music through his weekly radio show.
Doug was a member of the First Christian Church at West Salem where he taught the adult Sunday School class for several years.
Survivors include his wife, Barbara, of West Salem, three sons: Phillip (Susan) Atteberry of Titusville, PA, Mark (Marilyn) Atteberry of Kissimee, FL and Scott (Dana) Atteberry of Albion, 5 grandchildren: Michelle (Jimmy) Messina, Douglas Atteberry, Robert (Maki) Atteberry, Ty Atteberry and Maia Atteberry and 4 great grandchildren: Griffin, Alyssa, Alexis and Axl.
A visitation will be held from 9AM to 11AM on Wednesday, January 24, 2018 at the First Christian Church in West Salem.
A Celebration of a Life Well-Lived will follow at 11AM.  A private burial will take place at a later date.
The Ingram Funeral Home of West Salem is in charge of all the arrangements.