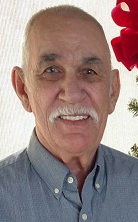 Vereal E. Ellis 78 of Enfield, passed away Sunday morning January 21, 2018 at the Enfield Nursing and Rehabilitation Center. Vereal retired as a Drilling Superintendent. He enjoyed woodworking, carving, song writing, playing guitar and other musical instruments and gardening. He attended the Springerton Church of Jesus Christ.
He is survived by his wife, Marrianne; daughter, Dolly (Neale) Caffin of Enfield; granddaughter, Lora (Corey) Phillips and great-grandchildren, Lillian, Lynnex and Bodey, grandson, Logan Barker and great-grandson, Lathyn Follmer; daughter, Anita (Jerry) Peyton of Norris City; and granddaughters, Riley and Rachael Peyton; brother, Glendall (Mary Jean) Ellis of Enfield and sisters, Shirley (Bill) Renshaw of McLeansboro and Sharon (Brian) Lewis of Marion.
Private Family Memorial Services will be held at a later date. The Stendeback Family Funeral Home in Enfield is in charge of arrangements.