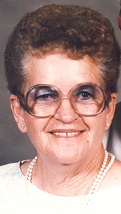 Evelyn Lorraine Lyle, 91, of Ellery died January 22 Aperion Care in Fairfield, IL. She was a cook at the Uptown Restaurant in Fairfield for many years, and was a member of the Samaria Baptist Church.
Evelyn is survived by a daughter, Rhonda (Larry) Greene of Evansville, IN; a son, W. Russell (Brenda) Lyle of Tampa, FL; a sister, Donna Barker of Morris, IL; daughter-in-law, Julie Lyle of Rochelle, IL; eight grandchildren, and ten great-grandchildren.
Funeral services for Evelyn Lorraine Lyle will be 11 a.m. Friday, January 26 at the Ingram Funeral Home in Albion with burial at Samaria Baptist Cemetery.
Visitation will be held from 10 a.m. until the time of service at the Ingram Funeral Home in Albion.