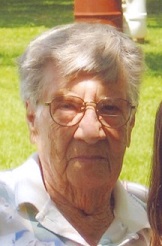 Ruby F. Ruphard, 103, a resident of Broughton, Illinois, passed away Monday, January 29, 2018 at the Hamilton Memorial Rehabilitation and Healthcare Center.  A home maker in life she was also the oldest living member of the former Broughton Baptist Church.
Ruby is survived by four sons, Joe Dale Ruphard of McLeansboro, IL, Charles Ronald (Anna Lee) Ruphard of Florida, Lewis Donald (Carol) Ruphard of Whittington, IL, Larry Robert (Joyce) Ruphard of Vine Grove, KY; and one daughter, Joan Lauderback of Tuscola, IL.  Thirteen grandchildren, twenty-six great grandchildren and several great-great grandchildren also survive.
Funeral services will be held Friday, February 2, 2018 at 10:00 a.m. at the Gholson Funeral Home in McLeansboro with burial at Gholson Cemetery near Broughton.
Visitation will be held Thursday, February 1, 2018 from 6 to 8 p.m. at the Gholson Funeral Home in McLeansboro.
The Gholson Funeral Home of McLeansboro is in charge of arrangements.