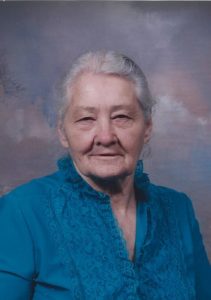 Nigel F. (Brown) Faulkner, 99, of Fairfield, passed away on January 31, at Aperion Health Care in Fairfield. She was a kitchen helper having worked at Fairfield Memorial Hospital. She attended the Church Of God and Full Gospel Tabernacle for several years. She was born March 21, 1918 in Hugo, Colorado to Paris R. Brown and Bonnie C. Brown. She married Gerald Faulkner on June 25, 1937.
She is survived by son, Charles Faulkner of Fairfield two daughters Ladonna Lapikas of Fairfield and Carolyn Kohl of Stockton, California; eight grandchildren Marlene Olson of Brattleboro, VT, Denice Kelley of Colton, OR, Marty Romero of Lodi, CA, Glynis Taormina of Santa Cruz, CA, Radonna Sue Mckinney of Normal, IL, Evan Ewing of Scheller, IL, Kevan Ewing of Fairfield, IL, and Jamie Faulkner of norfold, VA. Sixteen great grandchildren, 20 great great grandchildren and several nieces and nephews.
She was preceded in death by her parents, husband, one son Franklin Faulkner; four sisters Opal Plasters, Ruth Gibson, Gail Knudson, Esther Brown and one brother Henry Brown. Friends and family are invited to attend a Memorial Service, which is being held on Sunday, February 11th, from 2 to 4pm at East Hickory Hill Missionary Baptist Church,20761 East IL Hwy 15 in Bluford. Online condolences can be made at www.nalesfuneralhome.com.  Cards and flowers can be sent to Nales Funeral Home and will be delivered to the service.  Private family interment of ashes will immediately follow the service.