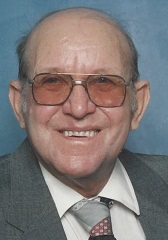 94-year-old Dahlgren resident, Chester "Chet" Brake died Monday, Feb. 5 at Deaconess Hospital in Evansville.  A farmer, he was a member of the Middle Creek Missionary Baptist Church where he served as a deacon of the church for over 70 years.
A U.S. Army veteran of WW II, he served in the 941st Field Artillery, Battery A as a gunner. Some of the battles and campaigns he fought in included Normandy, Northern France, Ardennes, Rhineland and Central Europe.  He was awarded three Overseas Service Bars, American Campaign Medal, European African Middle Eastern Theater Ribbon with one Silver Battle Star, Good Conduct Medal and a WW II Victory Medal.
Survivors include a son, David Bradley Brake and wife Donna of Dahlgren; four grandchildren, Benjamin Brake and wife Jana of Dahlgren, Timothy Brake and wife Sarah of Dahlgren, Steve Jamerson and wife Sally of Urbana and Greg Jamerson and wife Julie of Effingham; seven great-grandchildren, Kolby, Kaylie, Caleb, Sadie, Kelsey, Hayley and Ashley and one great-great-grandchild, Bobby.
Funeral services for "Chet" Brake will be 11 a.m. Thursday, Feb. 8 at the Harre Funeral Home in McLeansboro with burial at Middle Creek Cemetery.
Military rites will be provided by American Legion Post 106 and Military Honor Team from Marion.
Visitation will be from 10 a.m. Thursday, Feb. 8 until the time of service at the Harre Funeral Home in McLeansboro.
Memorials may be made to the Middle Creek Cemetery Fund and will be accepted at the Harre Funeral Home in McLeansboro.