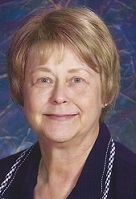 Gloria Jean Lang, 75, of Fairfield, Illinois died at 5:50am on Sunday, February 4, 2018 at Fairfield Memorial Hospital. Gloria received her undergraduate degrees from Asbury University and her master's degree from Southern Illinois University. She taught history and civics at Center Street Grade School for 41 years before retirement.
Survivors include her husband Wendell, one daughter Angela Lang of Chicago, and her cousins Kay (Denny) Shepard and Dorothy (James) Dining and their children.
Funeral services for Gloria Lang will be on Friday, February 9, 2018 at 7pm at the Johnson and Vaughn Funeral Home in Fairfield.  Burial will be at 10:30 a.m. Saturday, Feb. 10 at Maple Hill Cemetery in Fairfield.
Visitation will be from 5pm to 7pm Friday evening at the Johnson & Vaughn Funeral Home in Fairfield.
Family and friends who wish to attend the burial may go directly to the cemetery.
In lieu of flowers, donations may be made to the skilled nursing unit (third floor) at Fairfield Memorial Hospital and will be accepted at the Johnson & Vaughn Funeral Home in Fairfield.