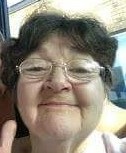 Lorrie White, 64, of Enfield passed away at 6:00 AM on Saturday February 3rd at the Linda K White Hospice House in Evansville IN.  She was a CNA for 20+ years and a housekeeper.
Lorrie is survived by her Husband- Willie White of Enfield; Farther- George Easton of Enfield; Sons- Robert (Julie) Thomas of Fairfield and Michael Thomas of Geff; 8 Grandchildren; 1 Great Grandchild, Brothers- Scott Easton of Massachusetts, Robert Easton of New Hampshire, and Alan (Jill) Easton of Florida; Sisters- Paula (Ronnie) Fontaine of Massachusetts, Donna Margerison of Indiana, and Lisa (Chris) Cincotta of Alabama; Several Nieces and Nephews also survive.
Funeral services for Lorrie White will be Friday February 9th at 1 PM at the Johnson and Vaughn Funeral Home with cremation to follow.
Visitation will be on Friday at 11 AM until the time of service at the Johnson & Vaughn Funeral Home in Fairfield.