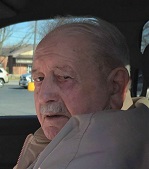 Robert "Bob" Merritt, 85, of Fairfield died at 7:47 AM on Tuesday February 6 at Deaconess Hospital in Evansville IN.  He was a farmer all his life, was a teacher until 1977, a Standard Bred racing judge and had worked for the Government as an Ombudsman. He was a longtime member of the Geff Ruritan Club, was a member of the 1st United Methodist Church in Fairfield and was a Korean war veteran.
Survivors include his wife-Phyllis Merritt of Fairfield, a son, Bill Merritt of Fairfield; grandsons, Aaron and Jason Thomason of Fairfield, and one great-granddaughter, Alexis Thomason of Fairfield.
Funeral services for Bob Merrit will be at 2 PM on Thursday February 8 at Johnson and Vaughn Funeral Home with burial in Maple Hill Cemetery.
Visitation will be from Noon until the time of Service at the Johnson & Vaughn Funeral Home in Fairfield.
In Lieu of flowers, memorials may be made to the National Kidney Foundation or the American Diabetes Association and will be accepted at the Johnson & Vaughn Funeral Home in Fairfield.