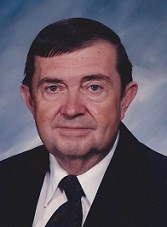 Curtis E. Pierce, 84, of Fairfield, died at 4:50pm on Wednesday, February 7, 2018 at Fairfield Memorial Hospital in Fairfield, IL. Curtis earned his PhD in Education Administration and had worked as a superintendent for 32 years in various schools in Illinois. He had also worked for 14 years as a principal and teacher in Kentucky. While there, he received the Kentucky Colonel Award, which is the highest title of honor bestowed by the governor of Kentucky, for his interest and dedication to teaching. After retirement, he became a substitute teacher in the Fairfield Public School District and many other schools in and around Wayne County. His students came to know him as the "Magic Man", as he loved to do magic tricks for them in the classroom. He also taught children's church and vacation bible school.
Survivors include his wife Beatrice of Fairfield, one daughter Tracey (Craig) Coale of Taylorsville, KY, five grandchildren Harrison Lee (Kaitlyn) Coale, Jackson Coale, Mason Coale, Katherine Coale, and Annabella Coale.
Funeral services for Curtis Pierce will be at 10am on Tuesday, February 13, 2018 at the Johnson and Vaughan Funeral Home in Fairfield  with burial in Roselawn Cemetery in Bardwell, KY at 3pm on Tuesday.
Visitation will be from 5-7pm on Monday, February 12th at the Johnson & Vaughn Funeral Home in Fairfield.
In lieu of flowers, memorials can be made to either the Dr. Scranton Memorial Cancer Fund, King's Chapel Church, or the Fairfield Public Library and will be accepted at the Johnson and Vaughn Funeral Home in Fairfield.