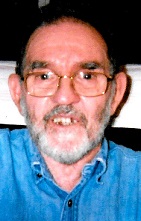 83-year-old Flora resident, Robert "Bob" Williams died on Monday, February 12, 2018 at Flora Gardens Care Center. Bob was a press room operator in the Tool and Dye department of Spartan Manufacturing in Flora, Illinois for 25 years.
Bob is survived by his wife Mary Williams of Flora, Illinois; three daughters Diana (Cory) Adams of Normal, Illinois, Debbie (Robert) Pearce of Cisne, Illinois and Denise Williams of Chicago, Illinois; three sons David Williams of Salem, Illinois, Danny Williams of Clay City, Illinois and Darren (Sara) Williams of Flora, Illinois.  Also surviving are seventeen grandchildren, and fourteen great grandchildren and one great grandchild on the way.
A graveside service for "Bob" Williams will be held Thursday, February 15, 2018 at 10:00 am at Bunker Cemetery near Rinard, Illinois. The family asks that friends and relatives go directly to the cemetery.
Memorials can be made to the donor's choice and will be accepted at the funeral home.
The Hosselton Funeral Home of Cisne is in charge of all the arrangements.