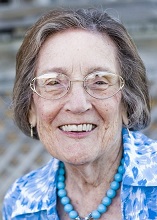 93-year-old former Albion resident, Betty Ann Frankland of Ponte Vedra Beach, FL died on Wednesday, Jan. 24 at Arbor Terrace in Ponte Vedra Beach, FL.  A homemaker, she had also worked with her husband at Painter and Frankland in Albion.
Survivors include a son, Tom and wife Debbie Frankland of Ponte Vedra Beach, FL; two daughters, Valerie and husband Jack Sprague and Paige and husband Matt Coltrera.
Funeral services for Betty Ann Frankland will be 11 a.m. Saturday, February 17 at the First Presbyterian Church in Albion with burial at Graceland Cemetery in Albion.
Memorials may be made to the Northeast Florida Community Hospice in Jacksonville, FL and will be accepted at Nale's Funeral Home in Albion, which is in charge of all the arrangements.