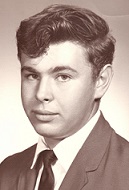 67-year-old Albion resident, Rickie Long died at 9:15 a.m. Monday, Feb. 5 at his home.  A U.S. Air Force veteran of the Vietnam War, he was an over the road truck driver.
Survivors include a son, Rick Long of Poseyville, Indiana; three daughters, Tracey Scheussler and Erica Long of Casper, Wyoming and Amy Lutz of Mt. Vernon, Indiana; two brothers, Steve and Monty Long of Albion; a sister, Cindy Michl of Olney; 7 grandchildren and one great-grandchild.
A Celebration of Life Service for Rickie Long will be 11 a.m. Saturday, Feb. 17 at the First Baptist Church in Albion with burial to be held at a later date.
Nale's Funeral Home in Albion is in charge of all the arrangements.