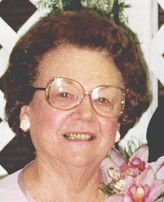 Alice Elizabeth Deen, 93, of Broughton died on Wednesday, February 14th, 2018 at Hamilton Memorial Hospital in McLeansboro.
An avid quilter, she was a homemaker. She donated several quilts to Relay for Life in Hamilton County for their fundraising efforts.  Mrs. Deen was a longtime member of Hebron Cumberland Presbyterian Church near Walpole.
Alice is survived by two sons:  Roger Deen and wife Connie of Broughton, Ron Deen and wife Lois of Dale, IL; one daughter Lisa Young and husband Chris of Broughton, seven grandchildren:  Michelle York of McLeansboro, Daniel Deen of McLeansboro, Matthew Deen and wife Amy of McLeansboro, Jason Young and wife Erika of McLeansboro, Lindsey Kessler and husband Tom of St. Libory, IL; Darla Bassetti and husband Nick of Sarasota, FL; and Dean Roberson and wife Katrina of McLeansboro, and sixteen great grandchildren, 1 sister, 1 brother, and several nieces and nephews.
Funeral services for Alice Elizabeth Deen will be held at 3 pm on Saturday, February 17th at the First General Baptist Church in McLeansboro with burial at the Hebron Cumberland Presbyterian Church Cemetery in Walpole.
Visitation will be Saturday from 1 pm until 3 pm at the church.
In lieu of flowers, the family requests that donations in Alice's memory be made to the Hamilton Memorial Hospital Foundation, and will be accepted at the church, or at the Young Funeral Home in Wayne City, IL which is in charge of the arrangements.