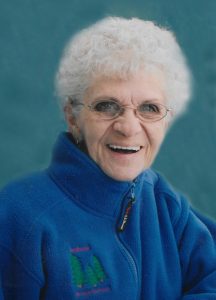 Emma O. Greenwalt Henson, age 81, formerly of Orchardville, passed away Friday afternoon, February 16, 2018, at Aperion Care in Olney.
Emma was born October 11, 1936, in Jefferson County, the daughter of Walter Edward and Flossie (Rhyans) Ingram.  She married Dennis L. Greenwalt on October 26, 1963, in Mt. Vernon, and he preceded her in death.  She later married Olen Henson on June 25, 1994, in Xenia, and he also preceded her in death.
Emma was a caring and supportive mother and wife and worked as a semi-truck driver along with her husband Dennis.  She later took on the role of being a pastor's wife when she married Olen.  She was a past member of Poplar Creek Community of Christ Church and her favorite past times included flowers, gardening, reading, and puzzles.
Emma is survived by her children: Beverly (Herb) Medley of St. Louis, MO, Jimmy Greenwalt of St. Petersburg, FL, Diann (Bob) Grimes of Sumner, and Kevin (Dawn) Greenwalt of Orchardville; step children: Donn (Peggy) Henson and Linda Espiritu Santo; 6 grandchildren: Jennifer, Tracy, Matthew Ryan, Lance, Dustin, and Kaylee; 8 great-grandchildren; several step-grandchildren; brother: Jim (Chris) Ingram of Rock Falls; brother-in-law: Nyhl Henson; sisters-in-law: Clorena (John) Skelton and Shirley (Jerry) Fisk both of Xenia; along with a number of nieces and nephews.  She was preceded in death by her parents; both husbands; 1 brother; and 6 sisters.
A funeral service will be 11 a.m. Tuesday, February 20, 2018, at Brush Creek Community of Christ Church, Xenia.  Interment will follow in Garrison Temple Cemetery.  Visitation will be Monday evening from 6-8 p.m. at Frank & Bright Funeral Home in Flora, and from 10-11 a.m. on Tuesday at the church.  Memorial donations may be given to the charity of the donor's choice.  To share a condolence or memory, visit www.frankandbright.com.