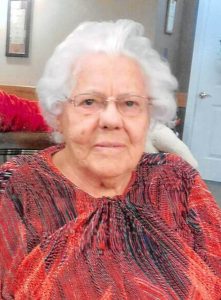 Ruth E. Smith, 94 of Fairfield, formerly of Mt. Erie, died at 4:47 AM, Thursday, February 15 at St. Frances Hospital in Indianapolis, IN.  Ruth was born in Richland County, IL on March 20, 1923 to Ira and Gertie (Berry) Bailey and had been a homemaker and caregiver and loved to quilt.
Ruth is survived by daughters Betty (Bruce) Glover of Mt. Erie and Mary Ellen (Gary) Cutler of Sheridan, IN, 6 grandchildren: Kent Glover, Andy Glover, Bridget Thomson, Philip Cutler, Matthew Cutler, and Anna Forto. 16 great grandchildren, and sisters in law Doris Bailey of Albion, Norma Jean Bailey of Fairfield, and Betty Bailey of Fairfield also survive.  She was preceded in death by her husband Ralph Smith, granddaughter Rachel Cutler, grandson-in-law John Thomson, and 5 brothers- Eugene, Carl, Robert, Ralph, and Ellis Bailey.
Funeral services for Ruth Smith will be held at 10 AM, Tuesday, February 20, 2018 at Johnson and Vaughn Funeral Home in Fairfield, with burial to follow at Graceland Cemetery in Albion.  A visitation will be held on Monday from 5-7 PM at the funeral home.  In lieu of flowers the family asks memorials in her honor be made to the West United Methodist Church.