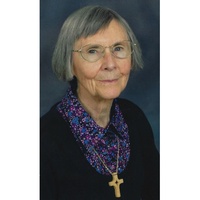 89 year-old Mayreta L. Weber of Chenoa, died at 9:02 pm Friday, February 16 at Meadows Mennonite Retirement Community in Chenoa. She was a Librarian and Director of the Chenoa Public Library for 30 years and was a member of Chenoa Baptist Church.
Survivors include one son, Wesley (Patricia) Weber of Ashland, MO and one daughter, Ruth (Jeffrey) Michael of Roselle, IL.  Also surviving are four grandchildren, four great-grandchildren and three brothers; Arthur, Vernie (Lida) and Henry (Betty) Linder.
Her funeral will be held at 2 pm, Wednesday, February 21, 2018 at Chenoa Baptist Church, Chenoa. Burial will take place at 1 pm on Thursday, February 22, in Pin Oak Cemetery in Sims. Visitation will take place prior to the service from 12-2 pm on Wednesday, February 21 also at Chenoa Baptist Church in Chenoa. In lieu of flowers the family suggests that memorials be directed to Chenoa Public Library Building Fund or American Cancer Society.
The Duffy-Pils Memorial Home in Chenoa is in charge of services.