US Air Force Reserve Airman 1st Class Clinton C Hayes, of Fairfield, graduated from Basic military training at the joint base San Antonio-Lackland in San Antonio Texas.  Hayes completed an 8 week program that included training in military discipline and training, Air Force core values, physical fitness, and basic warfare principles and skills. Clinton is the son of Carl E and Cindy Hayes of Fairfield and is a 2011 graduate of Fairfield Community High School.
Mount Carmel Water Commissioner Justin Dulgar told the Mount Carmel City Council that the time is near to make a decision on proceeding with the regional water plant project.  Dulgar said he will need a vote which would allow the Wabash Valley Water Commission to move forward with the next step in the process of trying to obtain funding for the $20.4 million project.  "We are not committing to the project, just agreeing to move forward with trying to get funding through the USDA," explained Dulgar.  Dulgar said that he will ask the Mt. Carmel city council for approval in moving forward within the next month or two.
Illinois State police investigated a one vehicle accident around 10:15 last night in White County.  Daniel W Stidman, 60, of Galatia was headed west on Route 141 in his red Ford F150 truck when he apparently fell asleep.  The truck hit an embankment on the north side of the road, overturned several times, before sliding across both lanes of traffic, coming to rest in the ditch on the south side of the road.  Stidman was transported by ambulance to an area hospital for injuries sustained in the crash.  Stidman was cited for Improper Lane Usage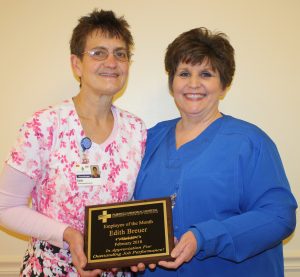 Each month, Fairfield Memorial Hospital honors an employee who has exemplified outstanding patient care and customer service internally and externally.  In February, Edith "Edie" Breuer, who works in Environmental Services, was named Employee of the Month. Edie is an exceptionally gifted worker with a great attitude," stated Keyna Warren, Director of Environmental Services.  Pictured Edith Breuer is presented the February Employee of the Month Plaque by Keyna Warren, Director of Enviromental Services.
34-year-old Kylee Black, of Olney, was sentenced last week to 14-years in prison, after she had earlier pled guilty on a federal indictment of six methamphetamine offenses.  One count charged that from 2015 to April of 2017, Black conspired with 57-year-old Vickie Sanders, of Olney, to manufacture 50 grams or more of meth.  Four other counts charged that Black and Sanders possessed pseudoephedrine knowing it would be used to manufacture meth.  The final count charged that in May 2017, Black distributed meth.  Sanders also pled guilty to the charges and she is scheduled for sentencing on March 13th.  The investigation in the case was conducted by the Richland County Sheriff's Department.
Approximately 200 cases of Cherry Ski are being recalled in Southern Illinois due to incorrect labeling.  The newly designed cans of Cherry Ski are being recalled due to nutrition facts incorrectly listing Red #4 under ingredients, when they instead should list Red #40 and Yellow #5.  These dyes may cause a reaction to anyone allergic.  Affected products have been delivered to the southern Illinois, Evansville, IN and Winchester, OH markets. Products affected are coded A8023EV10:25 through A8023EV11:40.  Consumers should return the product to the location of purchase for a refund, or call the Double Cola Company at 423-267-5691 or 877-DBL-Cola.