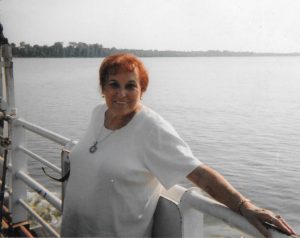 84 year-old Yvette Webb of Cisne died Tuesday, February 20 at Harrisburg Medical Center in Harrisburg. She worked at Airtex Products and worked as a telephone operator overseas during the 1960's for the Army. She was a World War II survivor and was a member of the Oak Valley Free Will Baptist Church in Geff.
Survivors include a daughter: Marie-Angele (Richard) Linder of Fairfield; three sons: Eric (Barbie) Wrentmore of Harrisburg, Jack (Sharon) Webb of Cisne and Yves (Wendy) Denizot of Oklahoma; ten grandchildren and six great grandchildren also survive.
Funeral services for Yvette Webb will be held at 10 a.m. Saturday, February 24 at the Hosselton Funeral Home in Cisne with burial to follow in the Cisne Cemetery. Visitation will be held from 9-10 a.m. on Saturday at the funeral home.
Memorials may be given to the American Cancer Society and will be accepted at the funeral home.
The Hosselton Funeral Home in Cisne is in charge of the arrangements.