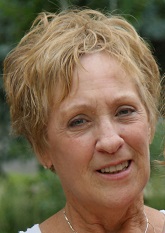 Former Fairfield resident, Susie (Wood) Jennings, 65, of Bement, IL, died Wednesday, February 14, at the OSF Heart of Mary Medical Center in Urbana.
Susie was the daughter of Barbara and the late Don J. Wood, formerly of Fairfield.  Survivors include a daughter, Megan Kerls of Parker, CO; a son, Brendan Wood of Denver; two step-daughters; five grandchildren; her mother, Barbara Wood of Montgomery, TX; a brother, Mike Wood also of Montgomery; and a sister, Cathy Roth of Ponte Vedra Beach, FL.
A funeral Mass was conducted February 20 in Bement.  Her body was cremated.  Memorial contributions can be made to the American Heart Association or the Scleroderma Foundation.