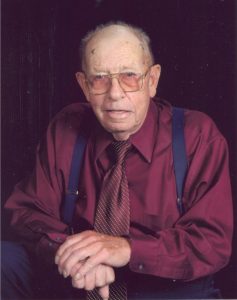 88-year-old West Salem resident, Hubert Dean Weber died at 10:30 a.m. on Friday, Feb. 23 at Carle-Richland Memorial Hospital in Olney. He had been a farmer. He was a member of the Little Wabash United Methodist Church and had served over 50 years as a member of the Edwards County Farm Bureau and as a board member for over 20 years.
Survivors include three children; Lyle Weber, Lana Newport and Nile Weber; three grandchildren, Brittany Wilkerson, Dylan Newport and Zachary Weber; six great grandchildren, Jarryn, Xander, Mathias, Harper, Hudson, Kingston, and sister, Marjorie Schuh.
A Celebration of Life Service for Hubert D. Weber will be 10 am, Wednesday, February 28 at the Ingram Funeral Home in West Salem with burial at the Moravian Cemetery in West Salem.
Visitation will be held on Tuesday, February 27 from 4pm-6pm at the Ingram Funeral Home in West Salem, IL.
In lieu of flowers, memorials may be directed to the care and maintenance of the Moravian Cemetery through the Moravian Cemetery Fund and will be accepted at the Ingram Funeral Home in West Salem.