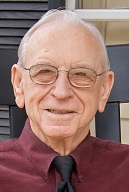 Kenneth Wayne Funkhouser, 91, Carmi, passed away Monday, February 26, 2018 at 5:05 a.m. at Carmi Manor. Wayne was a livestock and grain farmer. He was a member of Emmanuel United Methodist Church in Carmi. Wayne served on several church boards throughout his life.  He was a music evangelist for many local revivals and was Music Director at Cherry St. Baptist Church for many years.
Surviving include two daughters, Jeanna Funkhouser of Hermitage, TN and Nancy Abby and her husband Darrell of Bedford, TX; two grandchildren Tracy (Tim) Lindvall and Brian (Brooke) Abby; eight great-grandchildren, Andrew, Brandon, Connor, Dustin and Abby Lindvall and Braydon, Benjamin and Brody Abby.
Graveside services for Kenneth Wayne Funkhouser will be held at 4:00 p.m., Saturday, March 3, 2018 at North Maple Ridge Cemetery in Carmi.
Visitation will be at the Campbell Funeral Home in Carmi on Saturday, March 3, 2018 from 2:30 p.m. to 3:30 p.m.
In lieu of flowers contributions may be made to Emmanuel United Methodist Church and will be accepted at Campbell Funeral Home.