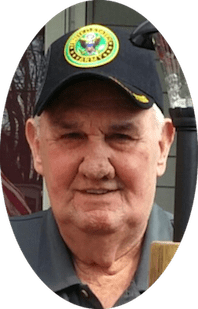 80-year-old McLeansboro resident, Kenneth Wayne Harrelson died on Tuesday, February 27.  A veteran of the U.S. Marine Corps and U.S. Army, he had served as a Combat Engineer and Drill Sergeant for 21 years. As a Sergeant First Class, his tours of duty included the Korean Conflict and two tours in Vietnam.  His bravery earned him the Bronze Star.  He was a member of the Church of Jesus Christ of Latter-Day Saints. He was also a member of American Legion Post 106 in McLeansboro, IL and VFW Post 4549 in Robinson, IL.
Survivors include his wife Tori; a son, Allen (Dawn) Harrelson; daughters, Bea Zoiss and Tina (Jason) Brown; four grandsons (Alec, Quinn, Joseph, Max); two granddaughters (Hayley, Amanda); great granddaughter (Cecelia); sister-in-law (Bertha) and many nieces and nephews.
Funeral services for Sgt. First Class Kenneth Wayne Harrelson will be held Saturday, March 3rd, at 1:00 p.m. at the Gholson Funeral Home in McLeansboro with burial at the Antioch Cemetery near Macedonia with graveside military rites performed by the American Legion Post 106.
Visitation will be held Friday, March 2nd from 6 to 8 p.m. at the Gholson Funeral Home in McLeansboro.
Memorial donations may be made to American Legion Post 106 and will be accepted at the Gholson Funeral Home in McLeansboro.