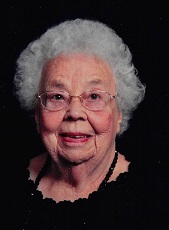 Bertha Blackford, 102 of Fairfield died at 7:40 PM, Thursday, February 28, 2018 at Fairfield Memorial Hospital Skilled Care Unit.  Bertha worked at Airtex for over 30 years and was a quilt maker, seamstress, housewife and had worked on the family farm.  She was a member of the Ellen Moore united Methodist  Church, where she was a member of the church choir, did special singing for funerals, led MYF, and taught bible school.  She also attended many other churches and led singing at Mill Shoals Methodist Church of many years.  Bertha was also a member of the Eastern Star, Modern Woodmen of America, Royal Neighbors, and was a 4-H Leader.  She had made her home with her daughter Vivian for several years before going to Skilled Care in 2011.
Bertha is survived by her daughter Vivian Blackford of Fairfield, daughter in law Dorris McCleary Blackford of Fairfield, grandchildren- Rodney (Dixie) Blackford, Ann Marie (Mark) York, Marla (Bill) Wilkins, Lisa Cook Kohlfeld, Tina Cook, great grandchildren- Andrew Wilkins, Jacque Barr, Deniece Boswell, Jon Boswell, Jesse York, Chris York, Kenny Blackford, Aimee Butts and Amelia Kohlfeld, several great great grandchildren, and a brother Robert (Wilma) Lichtenberger of Fairfield.
Funeral services for Bertha Blackford will be held on Tuesday, March 6 at 2 PM at the Johnson and Vaughn Funeral Home, with burial at Burnt Prairie Cemetery.
Visitation will be held on Monday from 5-7 PM at the Johnson & Vaughn Funeral Home in Fairfield.
Memorials in her honor may be made Ellen Moore United Methodist Church or Victory Outreach Church.