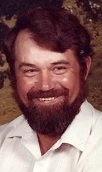 73-year-old McLeansboro resident, Johnny Lee Brockett died Friday morning, March 2 at his home.  He had been a laborer for CSX Railroad.
Survivors include two daughters, Andrea Cantrell and husband Doug of McLeansboro and April Brockett and fiancé Travis Green of McLeansboro; a son, Alan Brockett of O'fallon, IL; three grandchildren, Justin Cantrell and wife Seasha of Mt. Vernon, Ill., Jonathan Cantrell of Salt Lake City, Utah and Madelyn Cantrell of McLeansboro; two great-grandchildren, Makena Grace and Chase Cantrell; a sister, Janet Futrell and husband Larry of McLeansboro; two nephews, a number of cousins and two cats – Cookie and Blackie.
Funeral services for Johnny Lee Brockett will be 11 a.m. Tuesday, March 6 at the Harre Funeral Home in McLeansboro with burial at Braden Valley Cemetery at Dale.
Visitation will be from 6 – 8 Monday evening, March 5 at the Harre Funeral Home in McLeansboro.