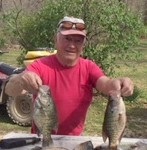 78-year-old Belle Prairie, Ill. resident, William T. Rost died at 10:35 p.m. Wednesday, Feb. 28 at Hamilton Memorial Hospital in McLeansboro. He had worked as a machinist for Caterpillar of Joliet. A U.S. Navy veteran, he served during the Vietnam War era. He was a member of St. John the Baptist Catholic Church in Piopolis.
Survivors include his wife, Sandra L. Rost of Belle Prairie; a son, William Anthony "Tony" Rost and wife Tina; a step-granddaughter, Megan Link and husband Levi and a sister, Doras Mae Smith of McLeansboro.
Funeral services for William T. Rost will be 10 a.m. Wednesday, March 7 at St. John Baptist Catholic Church in Piopolis with burial at St. John Baptist Catholic Cemetery at Piopolis with military rites conducted by the American Legion Post 106 and a Navy Honor Team.
Visitation will be 6 – 8 Tuesday evening, March 6 at the Harre Funeral Home in McLeansboro with a prayer service at 7 p.m.  The Harre Funeral Home of McLeansboro is in charge of all of the arrangements.