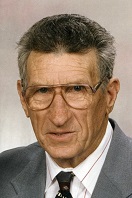 Oscar Fenton, 94, of Fairfield passed away at 5:09 PM on Saturday March 3, 2018 at Lavender Ridge Memory Care in Mt. Vernon. He was retired from his autobody repair shop and was a member of the Union North Cumberland Presbyterian Church and was a World War II Veteran.
Oscar is survived by one Son-Randall (Joyce) Fenton of Fairfield, one Daughter- Donna (Randy) Haegele of Union KY; Grandchildren- Lindsay Fields of Linton IN, Grant Haegele of Woodhaven MI, and Levi Fenton of Albion; Great Grandchildren- Jackson and Jamison Fields, Avery and Alex Calverley, and Tyler Haegele; One Brother- James Fenton of Sims.
Per Oscar's wishes, his body will be cremated with a memorial service to be held at a later date.
Memorials may be made to the Union North Cumberland Presbyterian Church and will be accepted at the Johnson and Vaughn Funeral Home which is in charge of all arrangements.